Filters and smart streams
Today BazQux Reader update is a big one. I've added two features filters and smart streams that help you to hide uninteresting posts and to monitor interesting ones.
How filters work? Imagine you've tired from Apple related news and want to hide them. Select the feed which you want to filter and search for "apple" (you can select folder or Latest if you want to hide items everywhere). There will be two new buttons on top of the search results:

Click on New filter and you'll see the following dialog:

Click

Hide found items and that's all. No Apple news anymore ;)
As you can see there are two types of filters: one that hides and one that shows. Latter is useful for feeds where you want to read only very specific news (e.g., only Apple news).
Note that hidden items are really hidden. They aren't marked as read and will appear again if you delete the filter. They're also ignored when you click

Mark all as read or select Show all option for the feed. And they won't show in further search results too.
Unlike rules/actions approach taken by some RSS readers, filters hide not only new items (when action triggers) but existing items too.
And of course filters are automatically supported by mobile apps. Apps just don't see hidden items.
Smart streams? Imagine you're Apple fanboy and want to see related news first. Search for "apple" and click

New smart stream:

And voilà, you've got a new virtual feed that has all articles about Apple. It shows number of unread items and the number updates automatically when you read article either in smart stream or in the source feed.
Like filters, smart streams work on both new and existing items. They have all the usual bells and whistles: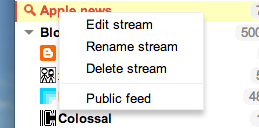 You can even enable public feed for smart stream and create complex workflows with IFTTT. For example you can setup IFTTT to send you a mail when a new article matching monitored keyword appears in your feeds.
Smart streams are shown as tags in mobile apps or as hot links in apps that work via Fever API. Only unread items are synced (since the most apps show all tagged items by default).
At any moment you can edit or delete filters and smart streams in Filters & streams setting: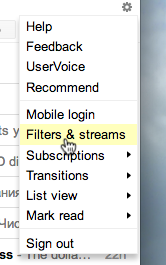 It lists all your filters and smart streams with search queries and feeds where they are active: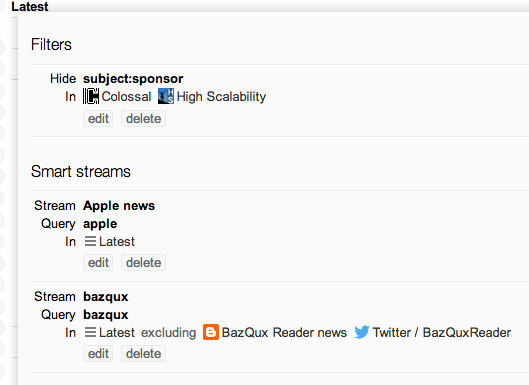 By pressing edit you can change search query and select any set of feeds you like: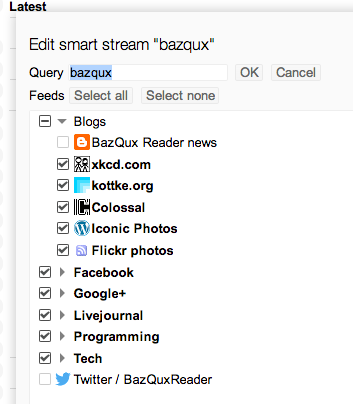 It's very useful when you want to apply the same filter to separate feeds or to exclude some feeds/folders from a smart stream.
There are many improvements in the search itself. Previously it only returned first 100 results, hadn't worked well on more than 500 feeds, incorrectly calculated number of unread results in some cases and not worked in tags with spaces in names. All these issues are fixed now.
Now you can even press Mark all as read and it will correctly mark current search results as read (button was ignored previously). Handy when you want to quickly dismiss some items.
Some other news:
Reeder 2 for Mac
public beta have been released. It supports Fever API. Just add a Fever account and set bazqux.com as a server.
Unread
iPhone app added support for Fever accounts too. Now there is one more very cool iPhone client for BazQux Reader.
I published a small
Chrome app
which adds a link to the reader in Chrome apps page (for those who like this way to open website). Rate it 5 stars. Help to spread the word in Chrome webstore. And of course you're welcome to like the reader on
AlternativeTo
;)
Happy reading!
8 comments: