Google Reader compatible API
BazQux Reader now have Google Reader compatible
API
. It means that any mobile app which works with Google Reader can work with BazQux just by changing server address from google.com to bazqux.com.
BazQux Reader will be supported in the next updates of
Mr. Reader
(iPad) and
Feeddler
(iPad/iPhone).
Developers of
JustReader
(Android) and
SlowFeeds
(iPhone/iPad) are busy at the moment but will take a look later.
Unfortunately there is still no answer from
Reeder
,
gReader
,
Press
and
Newsify
. Please, ask them (or your favorite app developers) to add support for BazQux Reader.
I want to thank Oliver Fürniß (Mr. Reader developer) for all the help he provided during development of API. He replied my mails quickly, pointed out my mistakes and provided test version of Mr. Reader even before I've implemented basic API calls. And looking how Mr. Reader handled API errors I must say that it's a very high quality product.
When the new versions of Mr. Reader and Feeddler will be available on App Store you'll need to set your login & password in
Mobile login
menu item: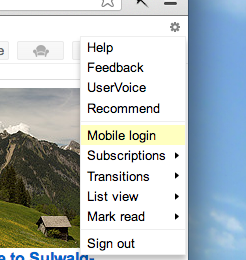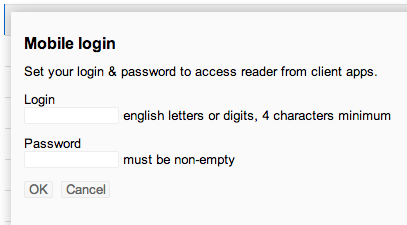 and then log in from mobile app.
What's next?
Now I'm working full throttle on starred and tagged items. I'm planning to release them in a week or so. They are already supported in mobile apps and the import from Google Reader is done too. Just wait a bit ;)
PS: A little bonus for Opera users. Opera notifier
extension
for BazQux Reader is now available!
5 comments: